BusinessOnline Named a Top Digital Marketing & SEO Company in Boston!
BusinessOnline isn't your typical digital marketing agency. With offices in San Diego and Boston, we serve clients from around the world, helping them gain the insights they need about their specific industries to take their companies to the next level. We leverage data and our industry expertise to help clients avoid common mistakes with their marketing strategies while refining their digital presence.
Like many top-notch service providers, we created a profile with Clutch in order to showcase our services and provide our clients with a platform to give us feedback. Unlike other platforms like Yelp and Google, Clutch only shares verified, unbiased third-party reviews, avoiding common problems review platforms face like fake reviews and extremely thin content. We have enjoyed continuing to grow with Clutch, and we are proud to be featured in their prestigious annual press release highlight the top companies in Boston!
We are proud to share that we were chosen by analysts as #2 among their list of top digital marketing agencies in Boston. Also, while digital marketing is one of the most competitive segments to compete in on Clutch, we were also named as a leader for their highly-competitive SEO services in Boston segment.
Because we offer such comprehensive services, we were also named a leader in 6 other up-and-coming research segments: digital strategy agencies, inbound marketing agencies, social media marketing agencies, PPC management services, and full-service digital agencies. Although over 2000 companies were evaluated for this honor, only an elite list of 77 leaders in Boston were selected for the marketing and advertising sector.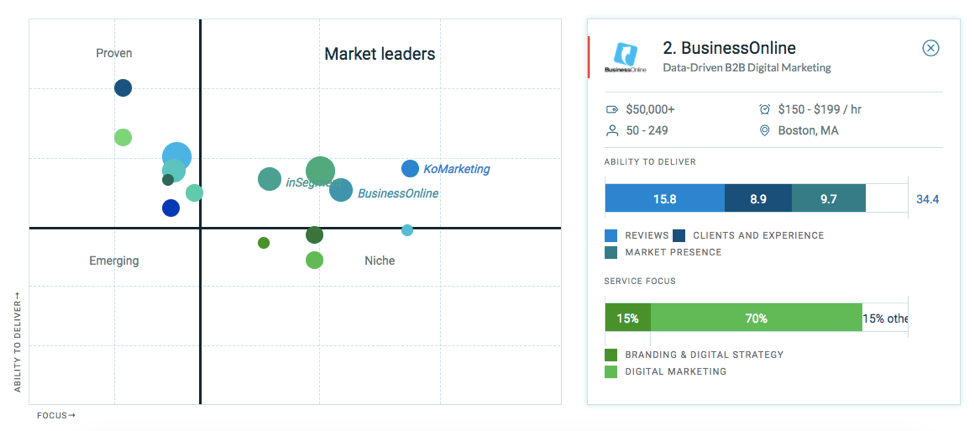 "With so many options in the digital marketplace, the need for companies to differentiate and stand out is stronger than ever," said Katie Wonders, business analyst at Clutch. "These companies have done just that through strategy and technical excellence and have proven that they can help other businesses do the same."
We are honored and excited to continue to rank as a leader on Clutch and we can't wait to utilize all their platform has to offer. If you are interested in leaving a review for us on Clutch, please reach out and we would love to hear from you!