Ready to improve engagement with your TOP accounts in your ABM programs? Start using chat!
If you're reading this right now, you probably already understand the essentials of accounts-based marketing and understand why it's one of the most impactful B2B marketing tactics in your arsenal. If not, check out our blog on the benefits of ABM.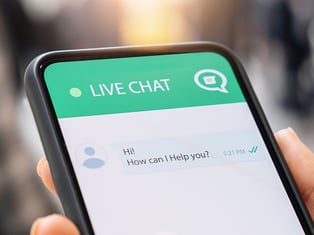 ABM leverages persona-based data and automation to target high-value accounts with personalized 1:1
messaging. Ultimately, ABM positively impacts revenue and ROI, which will keep your leadership team happy. In fact,
87% of marketers
say that ABM delivers higher ROI than other types of marketing.
If you're still reading this, it means that not only do you understand ABM, but you're also trying to figure out exactly what's missing from your current strategy.
Would you believe us if we told you that it's live chat?
What Is Live Chat?
Have you ever visited a website and had a window pop up in the lower right corner of your screen, saying something like "How can I help you today?" That's live chat! It's used in many different industries, especially for customer service, but recently, live chat for ABM has been taking off.

Live chat helps digital marketers connect with audiences in real-time. Also known as conversational marketing, chat-based systems are designed to help foster relationships and create authentic experiences with current and future customers, which ultimately helps provide a better user experience and simplifies the buyer journey.
Benefits of Live Chat
Believe it or not, your current (and future) customers want to talk with you, in real time. One survey found that 90% of consumers would prefer to chat with businesses directly, but according to Forrester, only 45% of surveyed customers use live chat. If you're not leveraging live chat for ABM, you could be really missing out.

Adding live chat to your website creates a personalized touch and makes it easier for your website visitors to engage with you directly. Increased real-time interaction can help you attract and convert more of the right buyers, faster.
Provide a Better Customer Experience
B2B buyers need to find the information they're looking for effortlessly and instantaneously. In fact, 76% of B2B buyers said that when researching a new product or service, they would prefer to speak to a customer service specialist or salesperson early on. That survey also found that buyers' number one complaint was slow response times.

Yet a majority of businesses continue to rely upon an out-of-touch approach to funnel-based marketing that leaves the customer isolated and reliant on self-service. Most businesses still make current and potential customers jump through hoops before a conversation can ever take place.

Instead of forcing customers to fill out lead generation forms and wait for a response, using live chat for ABM puts user experience first, with personalized messaging that engages customers in real-time.
Move Customers Down the Funnel
Top- and middle-funnel customers may not be ready to talk with sales yet, but they do have questions. By incorporating live chat into your overall ABM strategy, you're putting control of the buying experience back into the hands of the customer while simultaneously giving your prospect the immediate attention they need and deserve.

When implementing ABM, it is incredibly important that you make the customer journey as frictionless as possible, and using live chat is critical to your success. The last thing you want to do is leave the potential customer frustrated or unsure of what to do once they click your hyper-personalized 1:1 ABM ad. It is important to remember that ABM is not about amassing hundreds of leads, but about targeting hand-raising decision makers in a more meaningful and personalized way.
Increase Engagement & Convers(at)ion
We already know that chat provides a better experience and helps move customers through your marketing and sales funnel, but it's also important to remember that customers demand instant gratification, and if they don't get it, they may just bounce. Site visitors who use web chat are 2.8x more likely to convert than those that don't – enough said.
How to Use Live Chat for ABM
Think back to pre-COVID times when you used to frequent restaurants. You would walk in after taking a peek at the menu and a host would instantly strike up a friendly conversation and quickly close the deal by inviting you to grab a table or seat at the bar. That first interaction would lead to a night to remember, even if the food was mediocre at best. What you have come to love and expect from an in-person interaction should be no different digitally.

When a member of your target audience takes a peek at your menu (your ad) and clicks through to your website, it's time to roll out the red carpet, invite them to dine-in, and treat them as a long awaited friend, not a stranger. Let your live chat or intelligent chatbot technology spark meaningful conversation and take a personalized approach to help your guest find exactly what they're searching for. Do not let your guest wander around, or they may never find a table. Instead, offer them a seat, guide them to their table and provide a uniquely curated menu based on their tastes and appetite. This is where ABM and live chat come together.
Promote Your Content
Content marketing is essential to ABM, and a little personalization goes a long way. Intelligent chatbots and live chat technologies for marketing know where each customer is on your website and can serve specific pieces of content based upon what each user is looking at in real-time. Conversational marketing technologies, like Drift, make it easy to set up custom rules that can direct customers to specific pieces of content based on what page they're visiting.
Create Campaign-Specific Chats
Because live chat technologies can be tailored to specific web pages, one of the most ABM-centric ways to fully integrate live chat is to create unique chat instances for each of your personalized 1:1 campaign landing pages. You can designate an agent who is familiar with the campaign and with the target account list to ensure each person who visits the landing page gets a personalized live chat experience.
Capture Leads, Even When Your Office Is Closed
We live in a digital world where a prospect can visit your website 24 hours a day, 7 days a week, 365 days a year. It's not always possible that a company representative can be available to chat – and most consumers don't expect them to be. When it's after business hours, put an intelligent chatbot to work.

Live chat automation can help to answer specific qualifying questions and prompt a website visitor to leave contact information so that you don't miss an opportunity to contact a prospective customer. This is incredibly important when running personalized ABM campaigns as your ads will likely be served day and night so that your hyper-targeted audience keeps you top-of-mind.
Start Using Live Chat for ABM Today
Conversational marketing, powered by live chat and intelligent chatbots, eliminates common pain points throughout the customer journey by enabling real-time conversations and can help to deliver the personalized authentic customer-first experience that both B2B and B2C consumers desire. Integrating live chat for ABM will only improve the effectiveness of your ABM campaigns.