Invent to Survive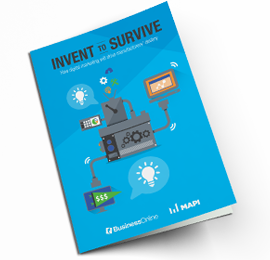 Digital marketing is the next big breakthrough for innovative manufacturing companies.
Research was conducted by the Manufacturers Alliance for Productivity and Innovation (MAPI) and BusinessOnline, surveying more than 100 global marketing leaders. The findings demonstrate an immense opportunity for growth in digital marketing for manufacturing companies.
65% of respondents reported that their digital marketing programs were only in the experimental or new phase, while 74% felt that they do not have enough data to assess the ROI of digital marketing.
In the Invent to Survive guide, we share research findings and insights from industry leaders such as:
Marcelo Prado, CMO at GE Measurement & Control
Craig Coffey, U.S. Marketing Communications Manager at Lincoln Electric
Kathy Button Bell, VP & CMO of Emerson
Kevin Espinosa, Digital Marketing Manager at Caterpillar
Jennifer Altimore, Kennametal's Global Enterprise Social Strategist
Fill out the form on the right to download the guide and learn more about how manufacturing companies can thrive with digital marketing.