Aligning Data Analytics and Storytelling for Business Leaders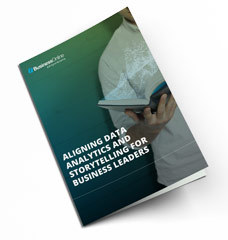 B2B Marketers face many challenges in fulfilling the company's business objectives, and on average an overwhelming 68% of projects do not use data analytics to drive strategic decisions. With those companies that make data-driven decisions yielding higher revenue overall—2/3 of companies report revenue growth of at least 15%–a focus on implementing a data reporting system is crucial for fully optimizing B2B marketing efforts.
In implementing or rewiring data analytics to drive strategic business decisions for executive business leaders, an understanding of the organization's business objectives and ultimately the final story executives will share to stakeholders is important. By aligning data analytics around storytelling, companies can provide an effective, cohesive, and valuable reporting system that executive business leaders can easily utilize to drive meaningful and impactful strategy.
Download our guide to begin or optimize your data systems around storytelling for executive business leaders, and discover:
The value of data-driven business decisions and effective storytelling
How to realign data systems to the final story executive business leaders will tell
The importance of implementing and realigning data analytics around the organization's story and business objective