eBook
A B2B Marketer's Guide to Reaching High-Value Targets
B2B marketers are regularly tasked with delivering new leads to sales. Increasingly, those leads also need to have a new higher standard of quality. Traditional approaches to marketing have focused on volume and reach – which doesn't always translate into high-value sales or a fast-moving funnel.
Account-Based Marketing (or ABM) takes a different approach and focuses on a targeted group of prospects and accounts that are smaller, but often much higher in value. In fact, ITSMA data states that 97% of marketers report ABM approaches had a somewhat or much higher ROI than other initiatives, and 84% said ABM provided significant benefits to retaining and expanding client relationships.
Download our guide to learn how to get started with or evolve your existing ABM program and learn:
How to understand your targets
Various types of ABM approaches and which is right for your organization
How to apply a full-funnel approach to ABM
Accurate measurement of the impact of your programs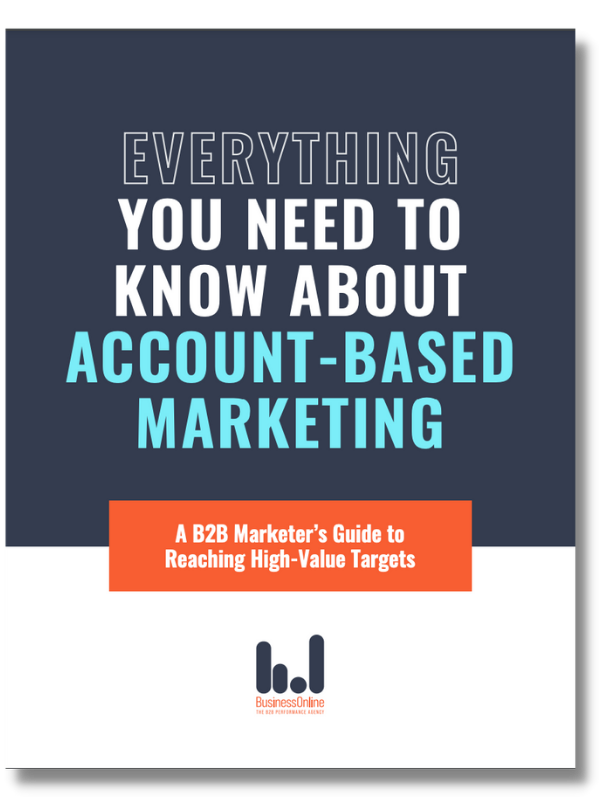 Downloadable Pdf, 1.8mb
Download Everything You Need to Know About Account-Based Marketing and get your program started today!
What our clients are saying
"BOL helped us to transform marketing from product to solution focused. All while proving the impact to pipeline and revenue."

"I've worked with BusinessOnline for close to 10 years at this point, over two different organizations. One of the key reasons I have stayed with BOL this long is that the agency affords me the ability to have industry experts as an extension of my own staff."

"Pound for pound, the strongest performing campaign in our portfolio...from skepticism... to reinvestment based on performance proof."


1,340 professionals like you have downloaded this guide.